How to Effectively Market and Sell to the Department of Defense and Military Bases
Defense Studies Institute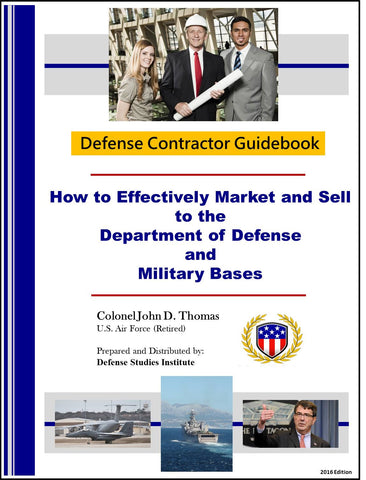 eBook (PDF Format)
How to Effectively Market and Sell to the Department of Defense and Military Bases (7th Edition) 
177 pages - eBook for Immediate Download 
(To purchase this eBook, go to bottom of the page.)
The 

Most

Effective

 Ways to Market and Sell to the Military!   
In order to do business with the Department of Defense (DoD), you have to know how to properly market and sell to military organizations and bases. This guidebook explains exactly how to do this. It is easy to read and understand. This is the only comprehensive defense marketing and sales guidebook being published today. If you don't know how to correctly market and sell to the military, you need this guidebook!

This eBook includes numerous diagrams, photos, and 146 active links to important DoD and Federal Government contracting resource websites and unclassified databases.  
Thousands of business leaders across the United States are using our 
guidebooks.  (NOTE: They are only available at our sponsored business 
conferences or by downloading them from this website.)
View our complete line of helpful guidebooks! 
Upon checkout, you will be authorized to download a copy of the eBook(s) you've purchased.   
(A download link will be automatically provided to you.)   
NOTE: Our eBooks are tax deductible as a small business expense.  You will receive a receipt for your tax records. 
__________________________
  
Add to your Cart
"How to Effectively Market and Sell to the Department of Defense and Military Bases"