Dealing with Difficult People in the Workplace
Defense Studies Institute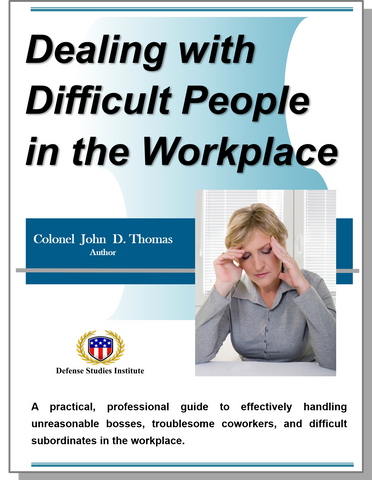 eBook (PDF Download)
Dealing with Difficult People in the Workplace  (4th Edition)
129 pages - eBook for Immediate Download 
(To purchase this eBook, go to bottom of the page.) 
Are Difficult People Making Your Current Job Miserable? 
Here is a practical guidebook for effectively handling unreasonable bosses, troublesome coworkers, and difficult subordinates in the workplace. You'll discover  highly effective strategies for coping with the various types of difficult people often encountered in the workplace.
Using these strategies you can forgo most of the frustration, emotional turmoil, and disruption difficult people can inflict on you. You'll be amazed at how effective these simple strategies can be.  Get a copy of this Best-Selling Guidebook, today!  
Thousands of business leaders across the United States are using our
guidebooks.  (NOTE: They are only available at our sponsored business
conferences or by downloading them from this website.)
View our complete line of helpful guidebooks! 
Upon checkout, you will immediately be able to download a copy of the eBook(s) you've purchased.  
A download link will be provided to you.   
NOTE:  You will receive a receipt for your tax records. 
 __________________________
  
Add to your Cart
"Dealing with Difficult People in the Workplace"