How to Get Hired by the Federal Civil Service
Defense Studies Institute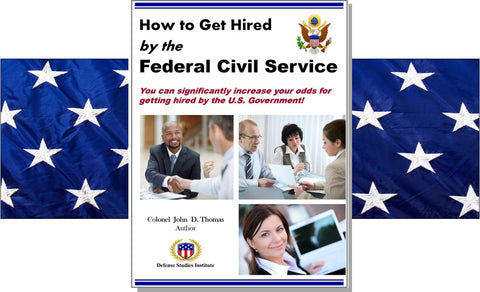 eBook (PDF Format)
How to Get Hired by the Federal Civil Service  (5th Edition) 
159 pages - eBook for Immediate Download   
(To purchase this eBook, go to bottom of the page.)
You Can Improve Your Odds for Getting Selected!    
In a typical week, over 41,500 civil service vacancies are announced within the federal government (for all federal agencies combined).  Unfortunately, most job seekers don't know how to successfully apply for these highly sought after jobs.  
  
Unless you have a friend or relative who is familiar with this process and is willing to help you, applying for a federal job can be a frustrating experience and often, just a waste of time.  But if you learn how to do it correctly, there is an excellent chance you'll be hired! 
  
Hundreds of Tips for Getting Hired! 
This illustrated guidebook takes you step-by-step through the civil service application process. You will learn:   
     • How to prepare a high-scoring federal resume.
     • How to correctly answer job candidate assessment questions.
     • What to include in your application package so it doesn't get tossed aside. 
     • How a federal job interview is conducted and how to best prepare for it.  
     • How to identify which specific questions you are most likely to be asked.

This guidebook is filled with hundreds of tips and valuable insight. It will save you countless hours of time and frustration. If you are serious about landing a federal civil service job, you need this guidebook!   

 
 Copyright 2020.  Photo taken at a Defense Studies Institute conference. 
Thousands of business leaders, government professionals, and federal job seekers across the United States have used (or are currently using) our guidebooks.  (NOTE: They are only available at our sponsored business conferences or by downloading them from this website.)
 
View our complete line of helpful guidebooks! 
Upon checkout, you will immediately be able to download a copy of the eBook(s) you've purchased.  
A download link will be provided to you.     
NOTE: You will receive a receipt for your tax records. 
__________________________
Add to your Cart
"How to Get Hired by the Federal Civil Service"